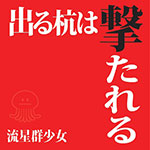 Shooting Star Girls' new album Deru Kui wa Utareru (出る杭は撃たれる) was released on March 12.
Deru Kui wa Utareru is the 1st album of Shooting Star Girls (流星群少女). It includes their latest singles SSG League ~Make Nine Desu!!~ (SSGリーグ~負けナインです!!~), Houkago! Mune Kyun Star (放課後!胸キュン☆スター☆), and Charlie wo Sagase (チャーリーを探せっ).
The MV has been released.
The Type A edition comes with a bonus DVD featuring the music video and live footage of the idol unit.
The Type B edition includes 5 bonus tracks.
Furthermore, K-Next is going to hold audition to recruit new member for Shooting Star Girls and their sister group Galette.
Tracklist
Type A

CD

Ippatsu Gyakuten! Gekokujou (一発逆転!下克上)
Energy Full Charge Surcharge (エナジーフルチャージサーチャージ)
Charlie wo Sagase (チャーリーを探せっ)
Happy! Lucky! Sukky!
LoVE Pandemix
Vibes Summer Soul (バイブスサマーソウル)
Houkago! Mune Kyun Star (放課後!胸キュン☆スター☆)
SSG League ~Make Nine Desu!!~ (SSGリーグ~負けナインです!!~)
Tamayura Seishun Days (たまゆら青春Days)
Raspberry Pop

DVD

Ippatsu Gyakuten! Gekokujou (一発逆転!下克上) (Music Video)
Live Footage (他、ライブ映像数曲収録 )
Type B

CD

Ippatsu Gyakuten! Gekokujou (一発逆転!下克上)
Energy Full Charge Surcharge (エナジーフルチャージサーチャージ)
Charlie wo Sagase (チャーリーを探せっ)
Happy! Lucky! Sukky!
LoVE Pandemix
Vibes Summer Soul (バイブスサマーソウル)
Houkago! Mune Kyun Star (放課後!胸キュン☆スター☆)
SSG League ~Make Nine Desu!!~ (SSGリーグ~負けナインです!!~)
Tamayura Seishun Days (たまゆら青春Days)
Raspberry Pop
Dangan Super Sniper Girls (弾丸 Super Sniper Girls)
LoVE Pandemix ~Hiroshi Matsui remix~
Tamayura Seishun Days (たまゆら青春Days) ~Hiroshi Chikuda remix~
SSG League ~EDM remix~
Happy! Lucky! Sukky! ~PandaBoy remix~
Music Video (PV)