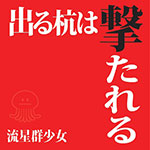 Shooting Star Girls' new album Deru Kui wa Utareru (出る杭は撃たれる) was released on March 12.
Deru Kui wa Utareru is the 1st album of Shooting Star Girls (流星群少女). It includes their latest singles SSG League ~Make Nine Desu!!~ (SSGリーグ~負けナインです!!~), Houkago! Mune Kyun Star (放課後!胸キュン☆スター☆), and Charlie wo Sagase (チャーリーを探せっ).
The MV has been released.