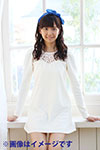 Miyazaki Yuka (Juice=Juice) will release her 1st solo DVD Greeting ~Miyazaki Yuka~ (~宮崎由加~) in April.
This DVD includes various scenes and interviews with the member of Hello! Project.
A trailer has been released.
Miyazaki Yuka is a member of Juice=Juice since February 2013.
She is also a member of Satoyama Movement's unit Green Fields.She was previously part of Hello! Pro Kenshuusei.
A special event will be held on April 29 in Tokyo.
Furthermore, Juice=Juice's new single Hadaka no Hadaka no Hadaka no Kiss / Arekore Shitai (裸の裸の裸のkiss / アレコレしたい) will go on sale on March 19.