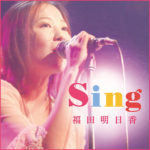 A great pleasure for the fans!
Former Morning Musume member and former idol of Hello! Project, Fukuda Asuka, released her first solo album Sing on March 14th.
In this single, she also sings a Morning Musume song entitled Never Forget (single from their 1999 album Second Morning).
The song Freesia was written and composed by Fukuda Asuka.
The musician group Saiki $tone participated in the production of the album.
Fukuda Asuka founded the PEACE $ TONE group in 2011.
Fukuda Asuka recently appeared with current members of Morning Musume and her former 1st generation colleagues in the album Hatachi no Morning Musume last February (as Morning Musume 20th).
Tracklist
80's
Style (スタイル)
Freesia (フリージア)
Minna Tabibito (みんな旅人 )
Never Forget