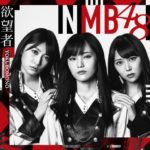 NMB48 will release their 18th single Yokubomono (欲望者).
It will be on sale on April 4th.
Members selected for the title song are: Ichikawa Miori, Umeyama Cocona, Tanigawa Airi, Yamamoto Ayaka, Yamamoto Sayaka, Iwata Momoka, Kato Yuuka, Yoshida Akari, Shiroma Miru (NMB48 & AKB48), Shibuya Nagisa (NMB48 & AKB48), Uemura Azusa, Ota Yuuri, Jo Eriko, Jonishi Rei, Murase Sae and Yagura Fuuko.
The central limb is Yamamoto Sayaka.
Umeyama Cocona performs for the first time on a A-side song.
The MVs (long or short versions) have been unveiled.
In the full clip of Yokubomono, we can see Yamamoto Sayaka in ruins and watch the camera. Then we see the members of the NMB48 walk in the dark, stand in front of a projector, with the lyrics of the song, and dance to the rhythm of the song. All this is done with dark and gravelly visuals, matching the covers of the single and the pretty awesome costumes we see.
This single will be available in several editions of which one sold only in the NMB48 theater.
Tracklist
Type A

CD

Yokubomono (欲望者)
Thinking time (Yoshida Akari solo)
Hankyu Densha (阪急電車) (Team N)
Yokubomono (off vocal ver.)
Thinking time (off vocal ver.)
Hankyu Densha (off vocal ver.)

DVD

Yokubomono (Music Video)
Yokubomono (Music Video Dance ver.)
Yokubomono (Music Video Making-of)
Hankyu Densha (Music Video)
NMB48 LIVE 2017 in Summer ~Sasasa Saiko~ @ Kobe World Memorial Hall (2017.08.06) Venue Vision Part 1
Type B

CD

Yokubomono (欲望者)
Thinking time (Yoshida Akari solo)
Yojijukugo Girls (四字熟語ガールズ) (Team M)
Yokubomono (off vocal ver.)
Thinking time (off vocal ver.)
Yojijukugo Girls (off vocal ver.)

DVD

Yokubomono (Music Video)
Yokubomono (Music Video Dance ver.)
Yokubomono (Music Video Making-of)
Yojijukugo Girls (Music Video)
NMB48 LIVE 2017 in Summer ~Sasasa Saiko~ @ Kobe World Memorial Hall (2017.08.06) Venue Vision Part 2
Type C

CD

Yokubomono (欲望者)
Thinking time (Yoshida Akari solo)
Saji wo Nageruna! (匙を投げるな!) (Team BII)
Yokubomono (off vocal ver.)
Thinking time (off vocal ver.)
Saji wo Nageruna! (off vocal ver.)

DVD

Yokubomono (Music Video)
Yokubomono (Music Video Dance ver.)
Yokubomono (Music Video Making-of)
Saji wo Nageruna! (Music Video)
NMB48 LIVE 2017 in Summer ~Sasasa Saiko~ @ Kobe World Memorial Hall (2017.08.06) Venue Vision Part 3
Type D

CD

Yokubomono (欲望者)
Thinking time (Yoshida Akari solo)
Good Timing (Yamamoto Ayaka, Umeyama Cocona, Jonishi Rei, Iwata Momoka, Yamada Suzu)
Yokubomono (off vocal ver.)
Thinking time (off vocal ver.)
Good Timing (off vocal ver.)

DVD

Yokubomono (Music Video
Yokubomono (Music Video Dance ver.)
Yokubomono (Music Video Making-of)
Good Timing (Music Video)
Yagura Fuuko Graduation Memorial! Golden Hour
Theater Edition

CD

Yokubomono (欲望者)
Thinking time (Yoshida Akari solo)
Gokai (誤解; Misunderstanding) (Shiroma Miru, Yagura Fuuko)
Yokubomono (off vocal ver.)
Thinking time (off vocal ver.)
Gokai (off vocal ver.)
Music Video (PV)