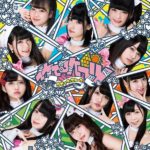 Iketeru Hearts released their new single Rosetta Stone (ロゼッタ・ストーン) on March 7.
This is the 6th single from the idol group Iketeru Hearts. This is the theme song of the TV anime series How to Keep a Mummy, broadcast on TBS.
The title of the main song refers to the Rosetta stone, an engraved stele fragment from ancient Egypt.
Check out the MV below.
Several editions will be available.
CDs are different depending on the edition ; the DVD will contain the video clip, images and bonus video.
Tracklist
Regular Edition

CD

Rosetta Stone (ロゼッタ・ストーン)
Distance Love
Kibou no Chizu (希望の地図)
Rosetta Stone (off vocal)
Distance Love (off vocal)
Kibou no Chizu (off vocal)

DVD

Rosetta Stone (Music Clip)
Bonus picture
(Enhanced) High image quality Music Clip (mp 4) / Hi Resolution sound source (48 KHz 24 bit wav)
Anime CD

Rosetta Stone
Rosetta Stone (Instrumental)
(Enhanced) high sound quality mp3 data / self-introduction movie / self-portrait photograph (Arata Yuyu, Aise Risako, Koizumi Shiika, Nijika & Manami Kazune)
Types A & B

Rosetta Stone (ロゼッタ・ストーン)
Distance Love
Rosetta Stone (Intsrumental)
Distance Love (Instrumental)
Types C & D

Rosetta Stone (ロゼッタ・ストーン)
Kibou no Chizu (希望の地図)
Rosetta Stone (Intsrumental)
Kibou no Chizu (Instrumental)
Type E

Rosetta Stone
Rosetta Stone (Instrumental)
(Enhanced) high sound quality mp3 data / self introduction animation self-shot photograph (Imai Aki, Usami Madoka, Uchida Kotone, Ochi Karin, Shiroki Leia & Tachibana Rie)
Music Video (PV)