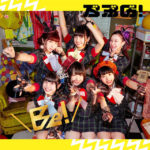 Beboga!'s new single Be! will be released on April 11th.
This is the major label debut single of Beboba! (Niji no Conquistador's yellow team).
In the MV, the members of the idol group sing and dance in an American atmosphere. It was filmed in a studio in Tokyo and directed by Shinoda Toshikata.
Unlike their usual colorful costumes, the members of Beboga! wear cute cool and punk outfits designed by Osare Company. This brand has already been in charge of the costumes and accessories for several popular idol groups such as AKB48, SKE48, NMB48…
Be! is a catchy song written and composed by Hyadain aka Maeyamada Kenichi.
The lyrics of the B-side track Super Star were written by Nobe. The music was composed by Murakawa Motonari. It is a tie-up song for the job search website Townwork since early March.
Tracklist
CD

Be!
Super☆Star (スーパー☆スター)
Be! (Instrumental)
Super☆Star (Instrumental)
DVD

Be! (Music Video)
Be! (Making-of)
Music Video (PV)