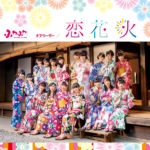 The idol group Fuwa Fuwa will release its new single Cheerleader / Koi Hanabi (チアリーダー/恋花火) on June 14.
This is the 4th single of Fuwa Fuwa ; it has a double A-side.
The MVs have been unveiled.
The single will be sold in several versions: 1 regular (CD only), 3 limited (CD+VR, CD+DVD, CD+Blu-ray) and nominative (bearing only the name of each member of the group).
The Blu-ray and DVD will feature the music videos of the 2 songs and their making.
The limited edition "CD+VR" will contain the Cheerleader MV in visual reality, as well as special glasses to view the clip.
The nominative editions will contain only two tracks (the main songs) ; only the pockets are different.
Tracklist
Regular and limited CD

Cheerleader (チアリーダー)
Koi Hanabi (恋花火)
Cheerleader (Instrumental)
Koi Hanabi (Instrumental)
Nominative editions CD

Cheerleader (チアリーダー)
Koi Hanabi (恋花火)
VR

Cheerleader (VR Music Video)
VR Viewer (Special glasses)
Blu-ray and DVD

Cheerleader (Music Video)
Koi Hanabi (Music Video)
Cheerleader (Making Video)
Koi Hanabi (Making Video)
Music Video (PV)