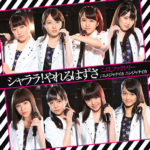 Kobushi Factory will release their new single on June 14.
It is entitled Shalala! Yareru Hazusa / Eejanaika Ninjanaika (シャララ!やれるはずさ/エエジャナイカ ニンジャナイカ).
This is the last single with Fujii Rio who announced her graduation from Kobushi Factory at the end of the Hello! Project 2017 Summer concert tour.
The MVs will be unveiled later.
Eejanaika Ninjanaika will be used as the theme song for the movie JK Ninja Girls, starring the members of Kobushi Factory, which is due for release on July 17th.
The single will be released in several editions : 2 regular editions A and B ; 2 limited editions also rated in the same way ; and a special edition (which will contain 2 songs extra). The limited editions A, and B and special edition are each provided with a different bonus DVD.
Limited editions and the first press regular editions will come with a serial number card for lottery, for the chance to win a ticket to one of the single launch events.
A special box set will also be published, which will include all single versions; many events will be organized.
Tracklist
Limited and regular editions CD

Shalala! Yareru Hazusa (シャララ!やれるはずさ)
Eejanaika Ninjanaika (エエジャナイカ ニンジャナイカ)
Shalala! Yareru Hazusa (Instrumental)
Eejanaika Ninjanaika (Instrumental)
Limited Edition SP CD

Shalala! Yareru Hazusa (シャララ!やれるはずさ)
Eejanaika Ninjanaika (エエジャナイカ ニンジャナイカ)
Yami ni Nukegake (闇に抜け駆け)
Picchi Pichi Tomodacchi (ピッチピチトモダッチ)
Shalala! Yareru Hazusa (Instrumental)
Eejanaika Ninjanaika (Instrumental)
Limited Edition A DVD

Shalala! Yareru Hazusa (Music Video)
Limited Edition B DVD

Eejanaika Ninjanaika (Music Video)
Limited Edition SP DVD

Shalala! Yareru Hazusa (Dance Shot Ver.)
Eejanaika Ninjanaika (Dance Shot Ver.)