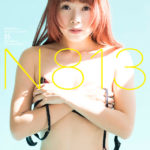 Naruse Eimi, member of Dempagumi.inc, appears on her first photobook N813 as a gravure idol.
The photobook will be published on May 29, 2017.
The photos were taken by the gravure photographer Watanabe Tatsuo.
In this photobook, Naruse Eimi looks more different than the usual girl a very big smile. Eitaso had declared that he wanted to try a carrer in modeling especially the classic gravure.
Eitaso is the fifth member of the group to publish her first photobook. Indeed, N813 is the 5th project of the "artbook series" of Dempagumi.inc, after the 1st of Mogami Moga, the 2nd of Furukawa Mirin, the 3rd of Fujisaki Ayane and the 4th of Aizawa Risa.
The price is 950 yen with taxes.
More information will be disclosed later.