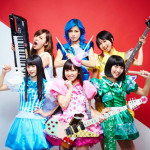 Gacharic Spin are going to give a special concert at the 2015 J-Pop Summit in San Francisco, USA, on August 8.
This event will be the first-ever West Coast U.S. live show by Gacharic Spin.
The rock band is celebrating its 5th anniversary this year. Gacharic Spin is a true force of musical power and renowned as one of the most aggressive and flamboyant all-female bands from Japan.
Their latest single Don't Let Me Down, released on June 3, is the ending theme song for Dragon Ball Kai (ドラゴンボール改) anime series.
The 2015 J-Pop Summit is San Francisco's annual Japanese pop culture celebration. The festival will take place on Saturday and Sunday August 8 & 9 at the historic Fort Mason Center in the city's Marina district.
Music Video (PV)