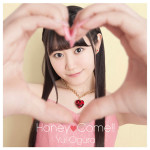 Ogura Yui's 5th single Honey Come!! will be released on August 12.
It is a pop and cute dance tune.
The short versions of the MV and of the making-of have been revealed.
In the music video, Ogura Yui looks like a kawaii bee in her hive. She wears a flower crown and a flower necklace with her other costume.
It is the ending theme song for the anime Castle Town Dandelion (城下町のダンデライオン ; Joukamachi Dandelion).
The opening theme Ring Ring Rainbow!! is performed by Ogura Yui's idol group YuiKaori.
The lyrics of Honey Come!! were written by Oomori Shoko. The music was composed by Shun Ryu and arranged by Okuba Kaoru who has already worked for Hello! Project and on anime songs.
The B-side track Girlish Age (ガーリッシュエイジ) was written by Kodama Saori, composed by Kamiya Rei and arranged by Kawai Eiji.
In addition, Ogura Yui is going to hold live events in September in Tokyo, Osaka and Kanagawa.
Regular Edition

CD

Honey♥Come!! (ハニカム)
Girlish Age (ガーリッシュエイジ)
Honey♥Come!! (TV size)
Honey♥Come!! (Off vocal)
Girlish Age (Off vocal)
Limited Edition

CD

Honey♥Come!!!!
Girlish Age
Honey♥Come!! (Off vocal)
Girlish Age (Off vocal)

DVD

Honey♥Come!! (Music Video)
Making
Music Video (PV)
Making-of