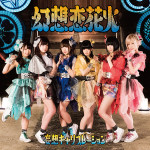 Moso Calibration's 8th single Gensou Koi Hanabi (幻想恋花火) will be released on August 4.
The MV has been revealed.
The song and the music video is about ephemeral love story between yurei (spirit or ghost in Japanese folklore) and humans. The story takes place in ancient Japan. The members of Moso Calibration wear traditional kimonos. They perform yurei having supernatural powers.
It is a summer tune. In the video, the flower petals and the fireworks make feel the summer atmosphere.
The electro sound and the melody express various feelings.
The lyrics were written by Tonegawa Takayuki. The music was composed by Dr Usui. They are both part of Wicky Recordings.
The music video includes animation scenes. It was directed by Shinoda Toshitaka and Ohashi Takashi.
These people had already worked for Moso Calibration on their previous singles.
A special website has been opened.
Tracklist
Type A

CD

Gensou Koi Hanabi (幻想恋花火)
Yumemiru Otome wa Muteki Desho!? (夢みる乙女は無敵でしょ!?)
Gensou Koi Hanabi (Off Vocal)
Yumemiru Otome wa Muteki Desho!? (Off Vocal)

DVD

Gensou Koi Hanabi (Music Video)
Making-of (メイキングV)
Type B

CD

Gensou Koi Hanabi (幻想恋花火)
Koufuku Kekkai (幸福結界) / Sakurano Usa, Mizuki Yumeko
Kimi to Clap Your Hands! (君もClap Your Hands!) / Kurumizawa Mahiru, Futaba Nae, Hoshino Nia, Amamiya Iori
Gensou Koi Hanabi (Off Vocal)
Koufuku Kekkai (Off Vocal)
Kimi to Clap Your Hands! (Off Vocal)
Type C

CD

Gensou Koi Hanabi
Yumemiru Otome wa Muteki Desho!?
Gensou Koi Hanabi (Off Vocal)
Yumemiru Otome wa Muteki Desho!? (Off Vocal)
Music Video (PV)