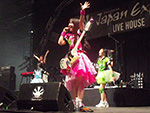 Gacharic Spin gave an energetic live performance at Japan Expo in Paris Nord Villepinte, France, on July 3, 2014.
The members of the Japanese female rock band participated in the festival for the first time as guests.
Check out the video and photos of Gacharic Spin Live at Japan Expo.
During more than half an hour, the 6 girls rocked the JE Live House stage in front of many fans.
Video
Photos