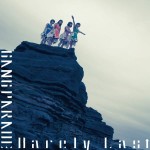 Gang Parade will release their new album Barely Last on November 8.
The new member Kyan Maika (キャン·マイカ) will make his first appearance on this album (her color is orange) ; she replaced Inukai Maaya October 2, who withdrew a day before.
The album contains the last singles of the group such as: Happy Lucky Kirakira Lucky, Queen of POP (these singles were released when the idol group was still called POP (Period Of Plastic Mercy 2) and We Are The Idol under the current name group. These singles were released when the group had members and Shigusawa Ao and Inukai Maaya before graduation.
One edition will be available. The CD will contain 10 tracks.
You can listen to the new songs crazy night and ISSIN ITTAI on Soundcloud and Ototoy!.
On October 6, Gang Parade welcomed new members : Coco Partin Coco (ココ・パーティン・ココ), Terashima Yuka (カテラシマユウ) and Yui ga Dokuson (ユイ·ガ·ドクソン). These girls were part of the last finalist to integrate the new generation of BiS but have stopped their activities with this group on September 26. They were members of SiS (a temporary group and the rival BiS).
The three new members didn't participate in the recording of the new album.
The group announced to debut with the seven members at their Barely Last TOUR at Shinjuku BLAZE from November 13.
Tracklist
sugar
crazy night
Barely Last
don't forget me not
ISSIN ITTAI
QUEEN OF POP
Te wo Nobasu (テヲノバス)
this is love song
WE ARE the IDOL
Happy Lucky Kirakira Lucky