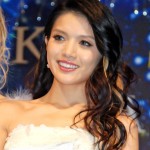 Erie, member of Dream and E-Girls, announced her upcoming graduation and retirement from the entertainment industry in December.
This announcement was made by Erie on the official website of Dream on October 28.
Although she isn't sure yet of what she will do after graduation, Erie explained, however, she wanted to lead a normal life after 14 years of loyal service with the J-Pop group Dream. She said she also thought of studying abroad.
The other members of Dream wrote a word for her on their website and wished her good luck in his future endeavors.
Erie joined Dream in 2002 and the E-girls in 2011. She is 29 years old.
We wish her success in her endeavors.