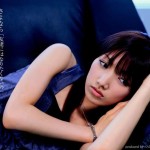 Sayonara "Tomodachi ni wa Naritakunai" (さよなら「友達にはなりたくないの」) is the 12th single released by Goto Maki (後藤真希) on November 17th, 2004.
Goto Maki is Japanese pop singer who signed under Avex Trax's sub-label rhythm zone and debuted in 1999 as part of Hello! Project!. She was also the only 3rd generation member of Morning Musume.
Goto Maki announced her marriage in July 2014, and gave birth to a girl in December 2015.
Her single reached #12 on the Oricon charts, and 29,004 copies were sold. Also the length of the song was 3:51.
Avex Trax is a record label owned by Japanese entertainment conglomerate Avex Group.
Track list
Sayonara "Tomodachi ni wa Naritakunai" (さよなら「友達にはなりたくないの」)
All my love-22 seki
Sayonara "Tomodachi ni wa Naritakunai (Instrumental)
Music Video (PV)

Comments
"his is one of her best songs…"
"Beautiful song"