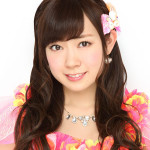 Watanabe Miyuki announced her graduation from NMB48.
Milky told that she was making way for the new generation. She thinks that the younger members are ready now. She hasn't given details about her future activities.
The date of Watanabe Miyuki's graduation hasn't been determined yet.
She made this announcement on April 13th during the idol group live performance at their theater in Namba, Osaka.
Watanabe Miyuki joined NMB48 as a 1st generation member in September 2010. She is currently part of NMB48 Team BII and AKB48 Team B.