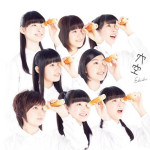 Shiritsu Ebisu Chugaku's 3rd album Anarchy (穴空) will go on sale on April 20th.
This album contains 16 tracks including Ebichu's latest singles and new songs.
Check out the MVs for Zettee Anarchy (ゼッテーアナーキー) and Nikibi (面皰).
Shiritsu Ebisu Chugaku worked in collaboration with several songwriters and artists such as Tamura Ayumi (Tamurapan), Maeyamada Kenichi (Hyadain), Sugiyama Katsuhiko, Ogata Kaiki (Here), Abe Yoshiharu (Abedon), Shuto Yoshikatsu (Keytalk), Casio Toruko Onsen, Fuji Fabric, Chokkaku, CMJK…
Ogata Kaiki (Here) wrote the lyrics and composed the music of Haru Yasumi Moratorium Chugakusei (春休みモラトリアム中学生). He made regular appearances on the idol group's TV variety show Ebichu++ Tasu Tasu (エビ中++).
This album also includes Ponpara Pecorna Papiyotta (ポンパラ ペコルナ パピヨッタ), the 2nd single from 5572320 (五五七二三二〇), the female rock band consisting of the members of Ebichu.
It should be noted that the release date of Anarchy was postponed because Kashiwagi Hinata was undergoing medical treatment. She was suffering sudden deafness.
Furthermore, Shiritsu Ebisu Chugaku Japan Hall Keikiiii Tour 2016 ~the snack bar in gakugeeeekai~ will be held from April 23rd to July 2nd.
Tracklist
CD

Umete Agetai (埋めてあげたい) (Interlude)
Zettee Anarchy (ゼッテーアナーキー)
Haru Yasumi Moratorium Chugakusei (春休みモラトリアム中学生)
Popcorn Tone (ポップコーントーン)
Nikibi (面皰)
Ebichu Shusseki Bangou no Uta Sono 2 (エビ中出席番号の歌 その2)
Mabui Raga Typhoon (マブいラガタイフーン) (Interlude)
Natsu Daze Johnny (夏だぜジョニー)
Mission Survivor
Nachu Melo Rendez-vous (ナチュメロらんでぶー)
Ana Aki in the Yuukei (あな秋いんざ夕景) (Interlude)
Ponpara Pecorna Papiyotta (ポンパラペコルナパピヨッタ) / 5572320 (五五七二三二〇)
Onegai Jesus (お願いジーザス)
Zenryoku☆Runner (全力☆ランナー)
Super Hero スーパーヒーロー)
Sanmaime no Tough Gaki (参枚目のタフガキ)
Music Video (PV)