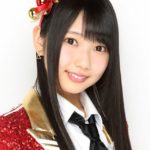 Inoue Yuriya announced her graduation from HKT48.
This announcement was made on April 11.
Her last appearance with HKT48 will be on June 12, the date of her graduation.
Inoue Yuiriya decided to leave the group of idols in order to continue her studies to prepare to enter university.
Inoue Yuriya joined HKT48 in April 2012 as a 2nd generation kenkyuusei (trainee) member. She is part of Team H since January 2014.
She was born on June 15, 1999, she is 17 years old.