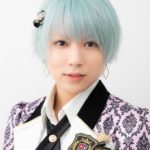 Kinoshita Momoka announced her graduation from NMB48.
This announcement was made by herself during a concert at their theater in Osaka on July 30th.
Kinoshita Momoka explained she wanted to leave NMB48 because where she mentioned how there's nothing she can do as an idol now.
The date of her graduation has not been determined yet.
Kinoshita Momoka is known in the group to differentiate herself from other members with her look (she regularly dyes her hair). She is a 1st generation member of NMB48 but she officially joined the idol group only in January 2012 in Team M.
She was born on February 6, 1997 and is 20 years old.