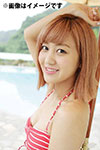 Hagiwara Mai's new DVD Again will be released on September 15.
This is the 3rd solo DVD from Hagiwara Mai (°C-ute), and the first one for 3 years.
The trailer has been unveiled.
Hagiwara Mai celebrated her 18th birthday in February. Even if she grew up since her previous release, she kept her cuteness and her freshness. The video includes swimsuit scenes.
Again can be pre-ordered on e-LineUP! from July 14 to August 2. The item is also on sale on CDJapan.
Trailer (Video)