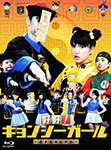 Hao Hao! Kyonshi Girl ~Tokyo Denshidai Senki~ (好好!キョンシーガール〜東京電視台戦記〜) starring Kawashima Umika and other 9nine members will be released on Blu-ray on March 6.
The Blu-ray box set includes all 11 episodes of the drama. It comes with a bonus disc featuring making-of.
The drama Hao! Hao! Kyonshi Girl started being aired on TV Tokyo on October 12.
Kawashima Umika plays the role of a Daoshi (a priest in Taoism) fighting against Jiang Shi (Chinese vampire or zombie).