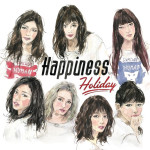 Happiness' new single Holiday will be released on October 14.
This is the 8th single by the J-Pop dance and vocal girl group, and the first one for almost one year.
Check out the MV.
This is a dance tune.
The girls perform a powerful dance number in the music video.
Happiness leader Miyuu was responsible for the choreography.
The music is produced by T.Kura who has worked with artists such as Exile, Amie Namuro…
Holiday is the tie-up song for Uha Mikakuto's E-ma Nodoame cough drop commercial.
The CD includes a new version of Friends (フレンズ) remixed by DJ Watarai and recorded with new vocals. The song was originally released in 2011.
Nigo was in charge of the art direction for the cover. He has also worked in collaboration with Naoto (Exile, J Soul Brothers) on the T-shirt design.
Tracklist
CD

Holiday
Be Mine
Friends (フレンズ) <2015 ver.>
Holiday (Instrumental)
Be Mine (Instrumental)
Friends <2015 ver.> (Instrumental)
DVD

Holiday (Music Video)
Music Video (PV)