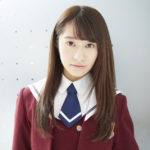 Sakurai Reika's birthday is today and may all of her wishes come true.
She is a Japanese idol, singer and actress. She is a 1st generation member of Nogizaka46 that she joined in 2011. Sakurai Reika is also the captain of the idol group.
Her 1st photobook Jiyuu to Iu Koto (自由ということ) was published in March 2017.
Sakurai Reika was born on May 16, 1994 in Kanagawa, Japan, and her zodiac sign is Taurus.