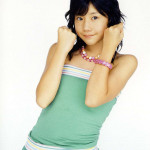 Ishimura Maiha's birthday is today and may all of her birthday wishes come true.
She is a former member of Berryz Kobo.
Ishimura Maiha graduated from Hello! Project Kids (was an idol group of 15 girls) and Berryz Kobo on October 2, 2005 because she wanted to continue schooling full-time.
She returned to show business as a model for Oscar Promotion in 2014, but she retired one year later in 2015.
As of today, she is the youngest in Hello! Project to graduate at age 12. She is known as Maihacchi or Maihha-chan. Ishimura Maiha was born on November 20, 1992 in Chiba prefecture, Japan and her member color was light blue.
Q/A
Hobby: collecting stickers
Strong point: Get along with anyone
Habit: rub nose
Favourite flower: lily