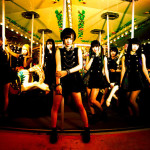 Maplez will release their new single Authentic Invention to Romantic Paranoid (オーセンティックインベンションとロマンティックパラノイド) on November 29.
This is the 7th single from Maplez, and their first one since the idol group changed its name. They were previously known as Hiroshima Maple★S.
The title song expresses the thought of a girl who is delusive with a melancholy feeling.
The MV was inspired by 1980s popular song programs and by dramas.
The members of sister groups Ginganeko and Hiroshima Go! Go! appear as extra in the video.
The music was composed by sound producer Matsumoto Masaya who had already worked with Maplez on their 2nd single Koi no Sensation (恋のセンセーション) released in June 2013. He wrote the lyrics with Koresada Yui. They are both part of Oscillophone.
2 editions are on sale. The CD track listing is the same for both. The Type A edition comes with a bonus DVD featuring the music video.
Furthermore, Maplez 4th Anniversary Live – Algorithm to Bunkiten – (- アルゴリズムと分岐点 -) will be held on December 27 at Differ Ariake in Tokyo.
Tracklist
CD

Authentic Invention to Romantic Paranoid (オーセンティックインベンションとロマンティックパラノイド)
Shihatsu Ressha wa Mada Konai (始発列車はまだ来ない)
Authentic Invention to Romantic Paranoid (Instrumental)
Shihatsu Ressha wa Mada Konai (Instrumental)
DVD

Authentic Invention to Romantic Paranoid (Music Video)
Music Video (PV)