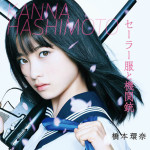 Hashimoto Kanna (Rev. from DVL) is going to make her solo debut with the single Sailor Fuku to Kikanjuu (セーラー服と機関銃) on sale on February 23rd.
It is a cover of the 1983 hit song byYakushimaru Hiroko.
It is also theme song for the movie Sailor Suit and Machine Gun – Graduation in which Hashimoto Kanna is starring. The film will be released in theaters on March 5th in Japan.
It is based on the novel of the same name by Akagawa Jiro. The story is about a teenage delinquent schoolgirl named Izumi Hoshi who inherits her father's yakuza clan.
For the first time, Hashimoto Kanna wrote the lyrics of a song. Its title is arigato ~ ありがとう.
The B-side track Akuma na Kanna (悪魔なカンナ) was used in the commercials for Rohto's Lip Baby Fruits and Lip Baby Crayon in which the "once in a thousand year idol" appeared last summer.
Little Star is from her solo DVD Little Star ~Kanna 15~.
The limited editions come with a photo of Hashimoto Kanna and a ticket to participate in an event.
Tracklist
Type A

CD

Sailor Fuku to Kikanjuu (セーラー服と機関銃)
arigato ~ ありがとう
Akuma na Kanna (悪魔なカンナ)
Sailor Fuku to Kikanjuu (Instrumental)
arigato (Instrumental)
Akuma na Kanna (Instrumental)

DVD

Sailor Fuku to Kikanjuu (Music Video)
Type B

CD

Sailor Fuku to Kikanjuu (セーラー服と機関銃)
arigato ~ ありがとう
Little star
Sailor Fuku to Kikanjuu (Instrumental)
arigato (Instrumental)
Little star (Instrumental)
Music Video (PV)