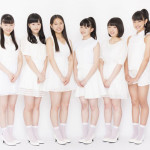 Hello! Project announced the creation of a new unit Tsubaki Factory (つばきファクトリー).
It consists of 6 members : Yamagishi Riko, Tanimoto Ami, Ogata Risa, Niinuma Kisora, Kishimoto Yumeno and Asakura Kiki.
As Hello! Project advisor, Shimizu Saki (ex Berryz Kobo) was involved in the selection of the members and of the name of the idol group.
"Tsubaki" means "camellia" in Japanese. It symbolizes the beauty, the freshness and the strength of the 6 girls in reference to the flower of the same name.
They are former Hello Pro Kenshuusei.
Tsubaki Factory will make their live debut on May 4 at Nakano Sun Plaza, Tokyo.