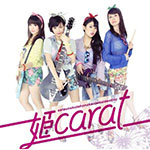 Hime Carat's 3rd single Setsunakute Honoka ni Amai Destiny (切なくてほのかに甘い運命(デスティニー)) will be released on June 18.
Idol rock band Hime Carat worked in collaboration with the songwriter Urino Masao on this long-awaited single.
The MV has been released.
3 editions are available.
Type A includes a bonus DVD. More details on its content will be announced later.
Type B comes with a 24-page photo booklet.
Tracklist
Regular Edition

CD

Setsunakute Honoka ni Amai Destiny (切なくてほのかに甘い運命(デスティニー))
Yoake no Ao yori mo Fukaku (夜明けの青よりも深く)
Setsunakute Honoka ni Amai Destiny (切なくてほのかに甘い運命(デスティニー)) (Instrumental)
Yoake no Ao yori mo Fukaku (夜明けの青よりも深く) (Instrumental)
Setsunakute Honoka ni Amai Destiny (切なくてほのかに甘い運命(デスティニー)) (Instrumental)
Type A

CD

Setsunakute Honoka ni Amai Destiny (切なくてほのかに甘い運命(デスティニー))
Yoake no Ao yori mo Fukaku (夜明けの青よりも深く)
Setsunakute Honoka ni Amai Destiny (切なくてほのかに甘い運命(デスティニー)) (Instrumental)
Yoake no Ao yori mo Fukaku (夜明けの青よりも深く) (Instrumental)

DVD
Type B

CD

Setsunakute Honoka ni Amai Destiny (切なくてほのかに甘い運命(デスティニー))
Yoake no Ao yori mo Fukaku (夜明けの青よりも深く) (Murasaki Megane's Remix)
Setsunakute Honoka ni Amai Destiny (切なくてほのかに甘い運命(デスティニー)) (Instrumental)
Yoake no Ao yori mo Fukaku (夜明けの青よりも深く) (Instrumental)

24-page photo booklet
Music Video (PV)