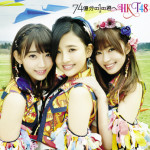 HKT48's 7th single 74 Okubun no 1 no Kimi e (74億分の1の君へ) will be released on April 13th.
The list of the Senbatsu members has been announced. The center is Kodama Haruka.
The MV, the tracklist and the covers have been revealed.
HKT48 Senbatsu members are Kodama Haruka, Miyawaki Sakura, Sashihara Rino, Tashima Meru, Tomonaga Mio, Moriyasu Madoka, Kojina Yui, Matsuoka Natsumi, Tanaka Miku, Yabuki Nako, Anai Chihiro, Ota Aika, Sakaguchi Riko, Fuchigami Mai, Matsuoka Hana, Tanaka Natsumi.
The song 74 Okubun no 1 no Kimi e is used in a commercial for Tokyo Monorail starring the idol group members. You can watch the video below.
In the MV, the girls perform on the stage of the HKT48 Love Fes in Fumotoppara. 1000 people attended this fictitious live and music festival. It was located near Mount Fuji.
Chain of Love is the title song of Ozaki Shihainin ga Naita Yoru Documentary of HKT48.
The limited editions include a ticket for a handshake event with the members of the idol group from Hakata.
Tracklist
Type A

CD

74 Okubun no 1 no Kimi e (74億分の1の君へ)
Chain of love
Taboo no Iro (タブーの色) / Sakura Haruka (サクラハルカ)
74 Okubun no 1 no Kimi e (Instrumental)
Chain of love (Instrumental)
Taboo no Iro (Instrumental)

DVD

74 Okubun no 1 no Kimi e (Music Video)
Taboo no Iro (Music Video)
Nihon Ichi Spot Mystery Bus Tour Vol. 1 (日本一スポット ミステリーバスツアー Vol.1)
Type B

CD

74 Okubun no 1 no Kimi e
Chain of love
HKT Jou, Ima, Ugoku (HKT城、今、動く) / Platinum Girls (プラチナガールズ)
74 Okubun no 1 no Kimi e (Instrumental)
Chain of love (Instrumental)
HKT Jou, Ima, Ugoku (Instrumental)

DVD

74 Okubun no 1 no Kimi e (Music Video)
HKT Jou, Ima, Ugoku (Music Video)
Nihon Ichi Spot Mystery Bus Tour Vol. 2 (日本一スポット ミステリーバスツアー Vol.2)
Type C

CD

74 Okubun no 1 no Kimi e
Chain of love
Einstein Yori Dianna Agron (アインシュタインよりディアナ・アグロン) / Nakomeru & Merumio (なこみく & めるみお)
74 Okubun no 1 no Kimi e (Instrumental)
Chain of love (Instrumental)
Einstein Yori Dianna Agron (Instrumental)

DVD

74 Okubun no 1 no Kimi e (Music Video)
Einstein Yori Dianna Agron (Music Video)
Nihon Ichi Atsui Gachinko Survival Game (日本一熱いガチンコ サバイバルゲーム)
Theater

CD

74 Okubun no 1 no Kimi e
Chain of love
Zuuzuushisa wo Kashitechoudai (図々しさを貸してちょうだい) / Diamon Girls (ダイヤモンドガールズ)
74 Okubun no 1 no Kimi e (Instrumental)
Chain of love (Instrumental)
Zuuzuushisa wo Kashitechoudai (Instrumental)
Music Video (PV)