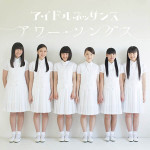 The new album of Idol Renaissance was released on March 22.
It is entitled Our Songs (アワー・ソングス).
The songs are covers of various artists such as Base Ball Bear, Senri Oe, The Pillows, HoneyWorks, UNISON SQUARE GARDEN, androp, etc. This is some how  a cover album.
The tracklist and the music video were unveiled.
The CD contains all the songs of the idol group, released as singles since its debut.
One editions is available.
You can watch the music video of the song Besten Dank below.
Tracklist
CD

YOU
Hatsukoi (初恋)
Besutendanku (べステンダンク)
Ano Musume Boku ga Rongushuuto Kimetara Donna kao Surudarou (あの娘ぼくがロングシュート決めたらどんな顔するだろう)
Time Travel (タイム・トラベル)
Natsu no Kesshin (夏の決心)
STILL LOVE HER (Ushinawareta Fuukei) (失われた風景)
-skit-
17 Sai (17才)
Taiyou to Shinzou (太陽と心臓)
Kinyoubi no Ohayou (金曜日のおはよう)
Koi Suru Kankaku (Base Ball Bear feat Hanazawa Kana) (恋する感覚)
Galileo no Showcase (ガリレオのショーケース)
Yeah! Yeah! Yeah!
Funny Bunny
Music Video (PV)