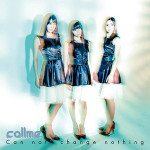 callme's 2nd single Can not change nothing will be on sale on April 6th.
This is the ending theme song for the drama Kanagawa-ken Atsugi-shi Laundry  (神奈川県厚木市 ランドリー茅ヶ崎) starring Matsui Rena (ex SKE48).
Check out the MV.
As for their previous releases, the members of callme were in charge of the production. Mimori wrote the lyrics and composed the music. Koumi created the dance choreography.
The idol group performs pop tunes.
Furthermore, callme Live Challenge 2016 is being held from March 26th to May 22nd.
Tracklist
CD (Type A / B)

Can not change nothing
Real Love
Can not change nothing (Instrumental)
Real Love (Instrumental)
DVD (Type B)

callme Live Museum 2015 Who is callme?@CLUB CITTA' -Digest Video-
CD (Type C)

Can not change nothing
Real Love
Can not change nothing (Instrumental)
Real Love (Instrumental)
Music Video (PV)