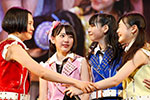 HKT48 announced the creation of Team KIV and their first Team Shuffle.
17 Kenkyuusei have been promoted as "new class" to HKT48 Team H and Team KIV. Some current members have also been transferred. The new captains are respectively Anai Chihiro and Ota Aika.
Check out the new line-up and some photos of the live performance of the idol group from Fukuoka.
The announcement was made on January 11 on the first day of HKT48 Kyushu 7 Prefecture Tour ~Kawaii Ko ni wa Tabi wo Saseyo~ (HKT48 九州7県ツアー~可愛い子には旅をさせよ~).
Team H
Anai Chihiro (captain)
Kodama Haruka
Sashihara Rino
Tanaka Natsumi
Nakanishi Chiyori
Matsuoka Natsumi
Wakatabe Haruka
Akiyoshi Yuka
Inoue Yuriya
Umemoto Izumi
Okamoto Naoko
Kojina Yui
Komada Hiroka
Sakaguchi Riko
Tashima Meru
Yamada Marina
Team KIV
Ota Aika (captain)
Ueki Nao
Kumazawa Serina
Shimono Yuki
Miyawaki Sakura
Murashige Anna
Motomura Aoi
Moriyasu Madoka
Imada Mina
Okada Kanna
Goto Izumi
Tanaka Yuka
Tani Marika
Tomiyoshi Asuka
Tomonaga Mio
Fuchigami Mai