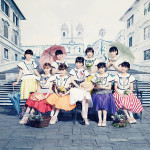 Houkago Princess' new single Himitsu no Tiara to Gelato (秘密のティアラとジェラート) will be released on October 12.
The theme of the music video was inspired by the 1953 movie Roman Holiday starring Audrey Hepburn. The members of the idol group are on vacation near the Piazza di Spagna in Rome, Italy, like in the film.
Houkago Princess member Yamaguchi Miran wrote the lyrics of the coupling song Forza! Ole!.
Yamaguchi Miran is a football fan and a supporter of AC Milan. She told that she liked the word "forza", and that she wanted to create a cheerful song that gives fighting spirit like those that we can hear in a stadium during a game.
This single marks the first appearance of Sasara Sekine, Marina Nagasawa and Mayumi Kojima as regular members of HouPri since their promotion in August.
Furthermore, Houkago Princess Live 2016 "Princess Story ~Twinkle~ & ~Miracle~ will be held on September 22 at Zepp DiverCity Tokyo.
Tracklist
CD

Himitsu no Tiara to Gelato (秘密のティアラとジェラート)
Forza! Ole!
Himitsu no Tiara to Gelato (Instrumental)
Forza! Ole! (Instrumental)
DVD

Himitsu no Tiara to Gelato (Music Video)
Music Video (PV)