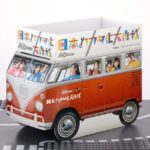 HR (Hakata Reboot) released their new single Nihon Hakata-ka Daisakusen (日本ハカタ化大作戦) on March 1st.
This is the 4th major single of the idol group from Fukuoka.
Check out the MV.
The single is sold in several editions (A, B, C and D). The list of titles is different depending on the edition.
Only the edition A will include a DVD bonus featuring the music video and its making-of.
Tracklist
Type A

CD

Nihon Hakata-ka Daisakusen (日本ハカタ化大作戦)
Memories (メモリーズ)
I Love You wa Mada wo Azuke (アイラブユーはまだおあずけ )
Believe
Nihon Hakata-ka Daisakusen (Instrumental)
Memories (Instrumental)
I Love You wa Mada wo Azuke (Instrumental)
Believe (Instrumental)

DVD

Nihon Hakata-ka Daisakusen (Music Video)
Nihon Hakata-ka Daisakusen (Music Video Making)
Type B

CD

Nihon Hakata-ka Daisakusen (日本ハカタ化大作戦)
Memories (メモリーズ)
Nihon Hakata-ka Daisakusen (Instrumental)
Memories (Instrumental)
Type C

CD

Nihon Hakata-ka Daisakusen (日本ハカタ化大作戦)
I Love You wa Mada wo Azuke (アイラブユーはまだおあずけ )
Nihon Hakata-ka Daisakusen (Instrumental)
I Love You wa Mada wo Azuke (Instrumental)
Type D

CD

Nihon Hakata-ka Daisakusen (日本ハカタ化大作戦)
Believe
Nihon Hakata-ka Daisakusen (Instrumental)
Believe (Instrumental)
Music Video (PV)