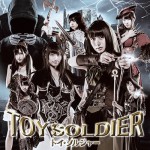 HR's 2nd major single Toy Soldier (トイ・ソルジャー) will be released on November 4th.
The members of HR (Hakata Reboot) are wearing fantasy costumes on the cover.
In the music video, the girls perform RPG characters who want to live on their own in the streets of Fukuoka.
The MV includes also dance< scenes with HR members dressed in school uniforms.
Sanada Rei (Studio Novel) was in charge of the creative direction. He has been nominated 2 years in a row, in 2014 and 2015, for the Music Jacket Award (ミュージック・ジャケット大賞). Check out the pictures below.
In October, this song will be the ending theme for the TV show Kisekitaiken! Unbelievable (奇跡体験!アンビリバボー) airing on Fuji TV.
The Type A edition includes all the coupling songs and a bonus DVD.
Tracklist
Type A

CD

Toy Soldier (トイ・ソルジャー)
Koko ni Iru (ここにいる)
Smiley Days
Soba de Kyutto (そばでぎゅっと)
Toy Soldier (Instrumental)
Koko ni Iru (Instrumental)
Smiley Days (Instrumental)
Soba de Kyutto (Instrumental)

DVD

Toy Soldier (Music Video)
Making-of
Type B

CD

Toy Soldier
Koko ni Iru
Toy Soldier (Instrumental)
Koko ni Iru (Instrumental)
Type C

CD

Toy Soldier (トイ・ソルジャー)
Smiley Days
Toy Soldier (Instrumental)
Smiley Days (Instrumental)
Type D

CD

Toy Soldier (トイ・ソルジャー)
Soba de Kyutto (そばでぎゅっと)
Toy Soldier (Instrumental)
Soba de Kyutto (Instrumental)
Music Video (PV)