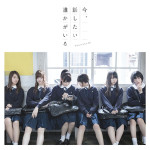 Nogizaka46's 13th single Ima, Hanashitai Dareka ga Iru (今、話したい誰かがいる) will be on sale on October 28.
The double centers are Shiraishi Mai and Nishino Nanase.
The covers and the tracklist have been revealed.
It is the theme song for the anime movie Kokoro ga Sakebita Gatterunda (心が叫びたがってるんだ。). The teaser trailer has been released.
There is a link between the lyrics and the movie. The theme is "courage".
The lyrics were written by Akimoto Yasushi. The music was composed and arranged by Akira Sunset (Safarii) and Apazzi.
These annoucements were made at the final live performance of Nogizaka46 Summer Tour 2015 (乃木坂46 真夏の全国ツアー2015) on August 31.
The Senbatsu members are Ikuta Erika, Shiraishi Mai, Nishino Nanase, Hashimoto Nanami, Matsumura Sayuri, Ikoma Rina, Akimoto Manatsu, Fukagawa Mai, Sakurai Reika, Wakatsuki Yumi, Eto Misa, Takayama Kazumi, Hoshino Minami, Saito Asuka, Ito Marika and Inoue Sayuri.
Furthermore, Nogizaka46 Under Live 4th Season (乃木坂46 アンダーライブ 4thシーズン) will be held on October 15-25 at AiiA 2.5 Theater Tokyo.
The idol group will give concerts at Nippon Budokan on December 17-18.
Tracklist
Type A

CD

Ima, Hanashitai Dareka ga Iru (今、話したい誰かがいる)
Shitto no Kenri (嫉妬の権利)
Popipappapa (ポピパッパパー)
Ima, Hanashitai Dareka ga Iru (Instrumental)
Shitto no Kenri (Instrumental)
Popipappapa (Instrumental)

DVD

Ima, Hanashitai Dareka ga Iru (Music Video)
Popipappapa (Music Video)
Bonus Footage
Type B

CD

Ima, Hanashitai Dareka ga Iru
Shitto no Kenri
Otona e no Chikamichi (大人への近道)
Ima, Hanashitai Dareka ga Iru (Instrumental)
Shitto no Kenri (Instrumental)
Popipappapa (Instrumental)

DVD

Ima, Hanashitai Dareka ga Iru (Music Video)
Otona e no Chikamichi (Music Video)
Bonus Footage
Type C

CD

Ima, Hanashitai Dareka ga Iru
Shitto no Kenri
Kanashimi no Wasurekata (悲しみの忘れ方)
Ima, Hanashitai Dareka ga Iru (Instrumental)
Shitto no Kenri (Instrumental)
Kanashimi no Wasurekata (Instrumental)

DVD

Ima, Hanashitai Dareka ga Iru (Music Video)
Shitto no Kenri (Music Video)
Bonus Footage
Trailer