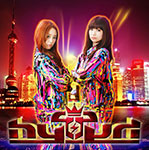 hy4_4yh's new single Hyper Elekitel Rengou (ハイパーエレキテル連合) will be released on April 23.
For this CD, hy4_4yh formed a new special unit with Nippon Elekitel Rengou (日本エレキテル連合).
Nippon Elekitel Rengou is a female comedy duo consisting of Nakano Soko and Hashimoto Koyuki.
This is a double A-side single.
It is a limited edition which will only be on sale at HMV.
In addition, hy4_4yh and Nippon Elekitel Rengou will hold a live performance on April 23 at Asagaya Loft A in Tokyo.
Tracklist
Bukubuku (ぶくぶく)
×YO××