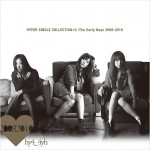 hy4_4yh's best-of album Hyper Single Collection +2 : The Early Days 2008-2010 will be released on November 21.
As its title suggests, fhis album contains the greatest hits from hy4_4yh (Hyper Yoyo) released from 2008 to 2010. All songs have been remastered.
The limited edition includes an extra disc featuring remixed songs by DJ Okite Porsche with a length of 60 minutes.
hy4_4yh – Hyper Single Collection +2 : The Early Days 2008-2010
CD 1

Hyper Hour (ハイパーアワー)
Sing Along (シンガロング)
Oh! Seishun!! (Oh!青春)
444 no Kiseki (444のキセキ)
Haru Uta (ハルウタ)
Rock'n Dokkin Summer (Rock'n どっきんサマー)
Generation X-Neo (ジェネレーションX-Neo)
Burrrn Banzai!! (Burrrnバンザイ!!)
Hyper Yoyo no Speed Kyoujidai (ハイパーヨーヨのスピード狂時代)
Hummingbird ~Give Me Song~ (ハミングバード~Give Me Song~)
Mimi Rara Mirai (ミミララ未来)
Tama Free!
Spear
CD 2 (Limited Edition)

Okite Porsche Hyper Mix 1 (掟ポルシェ ハイパーMix1)
Kinkyuu Tettei Touron [Hyper to wa Nani ka?] (緊急徹底討論【ハイパーとは何か?】)
Okite Porsche Hyper Mix 2 (掟ポルシェ ハイパーMix2)