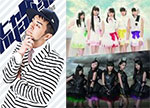 Momoiro Clover Z collaborated with Hyadain on his new album.
The song Hyadain to Momoclo no Joujou Yuujou (ヒャダインとももクロのじょーじょーゆーじょー) is on Hyadain's 1st album 20112012 to be released on December 12.
This is a cover song of Hyadain no Joujou Yuujou which is the opening theme for the anime series Nichijou (日常).