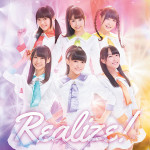 i☆Ris' 8th single Realize! will be released on February 18.
It is the new opening theme song for the anime PriPara (プリパラ, Prism Paradise) and the third one by i☆Ris following Make It and Miracle Paradise.
i☆Ris members Akaneya Himika, Serizawa Yu, Kubota Miyu, Shibuya Azuki, Wakai Yuki and Yamakita Saki are playing the leading roles in PriPara as voice actresses.
The anime is airing on TV Tokyo since July 2014.
The lyrics of Realize! were written by Itakura Takanori (Hifumi.inc). He also composed the music.
2 versions of the single are available.
The regular edition includes a bonus track.
The limited edition comes with a bonus DVD with the music video and an off shot movie.
Furthermore, iRis 1st Tour 2015 will be held from April 18 to May 24. Concerts are scheduled in Osaka, Nagoya and Tokyo.
Tracklist
Regular Edition

CD

Realize!
Mirai no Namae (ミライノナマエ)
Waku Doki Shitai! (わくドキしたいっ!)
Realize! (Instrumental)
Mirai no Namae (Instrumental)
Waku Doki Shitai (Instrumental)
Limited Edition

CD

Realize!
Mirai no Namae
Realize! (Instrumental)
Mirai no Namae (Instrumental)

DVD

Realize! (Music Video)
Off Shot Movie