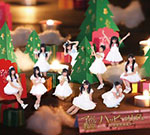 Idol Class (Idol Kyoshitsu) released their new single Happy Christmas -Da Da Da Daijou v- (ハッピークリスマス -だだだ大丈v-) on December 3.
This is the 3rd single from Idol Class, also know as Idol Kyoshitsu. As its title suggests, it is a Christmas song.
The music video has also been released.
Only one edition is available. It includes 2 songs.
Tracklist
Happy Christmas -Da Da Da Daijou v- (ハッピークリスマス -だだだ大丈v-)
Get Down
Music Video (PV)