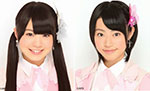 Suga Nanako and Yano Azuki are going to graduate from SKE48.
Both girls decided to leave the idol group to focus on their studies.
Their last live performances will be held respectively on December 22 and 23. Nevertheless, they will participate in various activities with the unit until February 23.
Suga Nanako joined SKE48 in August 2012. She is a member of Team E.
Yano Azuki is a 6th generation Kenkyuusei.