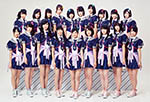 Idol College will release their new album idolcollege on April 20th.
This self-titled album contains 14 tracks including the singles of the idol group released under Stand-Up Records, and a new song.
The MV for Gamushara Fighter (がむしゃらFighter) was filmed in one long, continuous shot.
Idol College members felt nervous before shooting took place, but they succeeded the challenge without any mistake.
The center is Tomita Julia.
Okui Masami and Yoffy wrote the lyrics and composed the music of this new song.
It will be the ending theme for the show Tokyo Extra (東京Extra) on TBS between April and June.
The limited edition includes a bonus DVD featuring 6 music videos and making-of footage.
Furthermore, Idol College 7th Anniversary Live Tour will be held at the end of the year. There will be concerts in Nagoya, Osaka, Hiroshima, Fukuoka, Sendai, Sapporo and Tokyo.
Tracklist
CD

Gamushara Fighter (がむしゃらFighter)
Ano Ko ga, Kami wo, Kiranai Riyuu (あのコが、髪を、切らない理由。)
Ichizu Recipe (イチズレシピ)
BEFANYOUANDQN
Hikari no Nake e (光の中へ)
Love / Like (ラブ/ライク)
True End Player (トゥルーエンドプレイヤー
Harmonia (ハルモニア)
Myself
Be my Zombie (ビーマイ☆ゾンビ)
NG Word ~Kimi ga Suki~ (NGワード~キミガスキ~)
#Tokunatsu Joshi Kibou!!! (#常夏女子希望!!!)
Seigi no Kokoro ~Heiwa no Tame ni~ (正義の心~平和のために~)
This is it ~Eien Shoujo~ (This is it~永遠少女~)
DVD

Gamushara Fighter (Music Clip)
Ano Ko ga, Kami wo, Kiranai Riyuu (Music Clip)
True End Player (Music Clip)
#Tokunatsu Joshi Kibou!!! (Music Clip)
Be my Zombie (Music Clip)
Ichizu Recipe (Music Clip)
Gamushara Figther (Making Movie)
Music Video (PV)