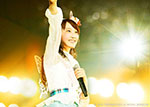 The movie Idol no Namida Documentary of SKE48 will be released on February 27 in theater in Japan.
The movie covers the history of the idol group. It follows the members of SKE48 from the creation of the unit in 2008 to nowadays. It features live and backstage videos, interviews with current and graduated members including Matsui Jurina, Matsui Rena,  Kizaki Yuria…
Some photos of various scenes of Idol no Namida Documentary of SKE48 have been unveiled.
The movie was directed by Ishihara Shin. It was produced by Toho and supervised by Akimoto Yasushi.