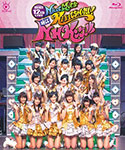 Idoling!!! 12th Live Nice de Hot na Kiss Shichaitai Ryakushite NHK-ng!!! (アイドリング!!! 12thライブ「NiceでHotなKissしちゃいたい! 略してNHKング!!!」) will be released on Blu-ray on May 24.
The concert was held on November 25 at NHK Hall, Tokyo. The Blu-ray features the 2 live performances held in the afternoon and in the evening.
Moreover, Idoling!!! Nishi e! Higashi e!! Mystery Tour ng!!! 2013 (アイドリング!!! 西へ! 東へ!! ミステリィツアーング!!! 2013) will be held on April 13 at Zepp Tokyo and on May 3 at Zepp Namba Osaka.
Setlist
Megami no Pulse (女神のパルス)
One Up!!!
Sara Sara★Cutie Co (サラサラ★キューティコー)
Bakkyuun! (バッキューン!)
Dance Block ~ EZ Do Dance (ダンスブロック~EZ Do Dance)
Houkago Telepathy
Go East!!! Go West!!!
Ichigo Gyuunyuu (苺牛乳)
Eve
Sakura Thank You (さくらサンキュー)
Secret Xmas
Snow Celebration
Konayuki ga Mau Machinami de (粉雪が舞う街並みで)
I no Standard (Iのスタンダード)
Yarakai Heart (やらかいはぁと)
– Encore 1 –
Love Magic Fever (ラブマジックフィーバー)
Don't Think. Feel!!!
Like a Shooting Star
– Encore 2 –
Don't Be Afraid
"Shokugyou: Idol" (「職業:アイドル。」)
Sayonara Matane Daisuki (さよなら・またね・だいすき)