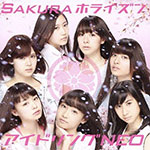 Idoling Neo's new single Sakura Horizon (Sakuraホライズン) will be released on April 2.
This is the 2nd single from Idoling Neo. It is produced by Ijichi Hiromasa.
The MV has been released.
3 editions are available.
The limited editions include a DVD with the music video, the making-of, and bonus footage. They come with a trading card and a ticket for an event.
Idoling Neo is a sub-unit of Idoling!!! consisting of 7 members from Idoling!!! including Ito Yuna, Goto Kaoru, and the 5 new generation members Furuhashi Mayu, Sekiya Mayu, Hashimoto Ruka, Sato Rena, Sato Michaela Shizuko.
Tracklist
Type A

CD

Sakura Horizon (Sakuraホライズン)
Tosshin Shoujo (突進少女)
Sakura Horizon (Sakuraホライズン) (Instrumental)
Tosshin Shoujo (突進少女) (Instrumental)

DVD

Sakura Horizon (Sakuraホライズン) (Music Video)
Sakura Horizon (Sakuraホライズン) (Jacket Making-of)
Type B

CD

Sakura Horizon (Sakuraホライズン)
Someday, Somewhere
Sakura Horizon (Sakuraホライズン) (Instrumental)
Someday, Somewhere (Instrumental)

DVD

Sakura Horizon (Sakuraホライズン) (Music Video)
Sakura Horizon (Sakuraホライズン) (Making-of)
Mero Mero (Music Video Muki Muki ver.)
Type C

CD

Sakura Horizon (Sakuraホライズン)
Tosshin Shoujo (突進少女)
Sakura Horizon (Sakuraホライズン) (Instrumental)
Tosshin Shoujo (突進少女 ) (Instrumental)
Music Video (PV)