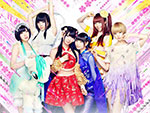 Dempagumi.inc's new single Dear Stage e Yokoso (Dear☆Stageへようこそ♡ ~武道館Live記念限定盤~) will be released on May 14.
This single commemorates Dempagumi.inc Live at Nippon Budokan scheduled on May 6, 2014.
The CD is a limited edition. 18000 copies are available.
The lyrics and the music of the lead song were written by Kiyoshi Ryujin.
The coupling song was also written and composed by Kiyoshi Ryujin. It was arranged by Mosaic.wav.
In the title, "Dear Stage" refers to bar in Akihabara in which the members of Dempagumi.inc hold regular live performances on stage.
Tracklist
Dear Stage e Yokoso (Dear☆Stageへようこそ♡)
Mamonaku, Dempagumi.inc ga Ririku Itashimasu (まもなく、でんぱ組.incが離陸致します♡)
Dear Stage e Yokoso (Dear☆Stageへようこそ♡) (Instrumental)
Mamonaku, Dempagumi.inc ga Ririku Itashimasu (まもなく、でんぱ組.incが離陸致します♡) (Instrumental)