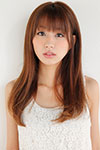 It was announced on March 30 that Predia's major debut single is going to be released in August under Nippon Crown label.
In addition, Maeda Yuu joined Predia as a new member.
Maeda Yuu is a model and talent under Platinum Production. She is 24 years old.
This is a new era for Predia which is now consisting of 10 members.
These announcements were made on March 30 during Predia's live performance held at Mt. Rainier Hall in Tokyo.
Furthermore, the idol group's new album Best of Predia 2010-2013 ~Reception~ will go on sale on April 9.